Conference Announcement - Athens, September 2022
EGDF Conference in Athens
,
Thursday 22 - Sunday 25 September 2022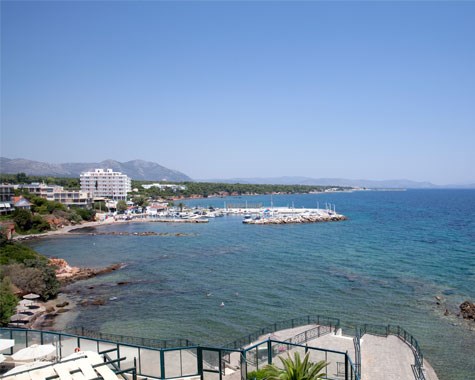 View from a Ramada hotel bedroom
We are pleased to invite you to the historic city of Athens, Attica Greece for our 2022 conference. 

Our local hosts are the Lara and Greek Guide Dog Schools

The conference will run from 16:00 on Thursday and finish with dinner on Saturday night. 
Sight-seeing will be arranged for Sunday  
We are pleased to tell you that the conference cost at €200 for members/supporters and €250 for non members is only €10 more than our last conference in 2019, despite spiralling costs. The detailed conference programme will be announced shortly.

Our venue is the Ramada Athens Attica Riviera, Nea Makri, Attica, Greece. A 30-minute drive from the airport and just an hour from the centre of Athens, the hotel sits right on the Agean Sea. In addition to top class conference facilities, the hotel has wonderful outside garden areas, easy access to 2 beaches, an outdoor pool and second indoor pool as part of the hotel spa.  
The special room rates of €100 single occupancy and €55 double or twin occupancy per person per night that we have negotiated for all delegates can be extended for 3 nights either side of the conference - so it you are need of a getaway - now is your chance!!
View of the Harbour in New Makri
We are planning a varied and exciting programme, but as always presentations from members are welcome. If you or someone you know, could make a meaningful contribution, please let us know. Email us with your name, organisation, country, type of presentation and a summary.  Deadline for this is 1st August 2022. 

The conference begins on Thursday, 22 September at 16:00 and finishes on Saturday at 17:00.  Breakfast is included in the room rate of €100 single occupancy and €55 double or twin occupancy per person per night . 

The conference fee includes morning and afternoon coffee breaks, lunch on Friday and Saturday.
On Friday evening we have arranged a welcome dinner at a small beachfront restaurant a short walk from the hotel.
Our Gala dinner will be held on Saturday night in the gardens of the hotel, with entertainment from local blind dancers and a choir of children from the blind school in Athens.

On Sunday morning there will be a meeting for board members from 8:30 to 11:00 and free time for other delegates to enjoy the beach, pool or spa. 
An optional sightseeing tour including lunch is planned for the afternoon, returning to the hotel at 17:30.  

We will offer 'Meet and Greet' services at the airport on Wednesday and Thursday.  Transport will be arranged back to the airport on Sunday or Monday.
Outside of those times, you should arrange your own transport to or from the hotel. 
Guide dog spending facilities will be available at the hotel, with volunteers there to help.

As previously mentioned, you can benefit from our special conference rates from Monday, 19th September through Tuesday night, 27th September, if you would like to extend your stay.  All hotel bookings must be made through EGDF to get these rates.

Here is a link to the hotel's website where you can find more information about the hotel and local area. Ramada Hotel

To secure your place for the conference , please complete and return the booking form below (available both as a PDF or word.doc.)
Please complete one form for each person attending, and return to info@EGDFed.org as soon as possible by 15th August 2022 at the latest.  
Then all you need to do is start packing!
Booking Form in Word 

Booking form PDF
Scan QR link below for accessible Booking Form


If you have any queries, please contact Jane@EGDFed.org or call +44(0)1327 720027 or +44(0)7866 621855

We are looking forward to an amazing and inspiring conference; catching up with friends and colleagues, meeting new colleagues and making new friends. 

I am really looking forward to meeting you all in Athens in September.

With warmest regards


Executive Director