2013 Conference in Brussels
Delegates from 14 European countries gathered in Brussels in early November 2013 for the EGDF Annual Conference on the theme "Developing the Forum: Pan-European Issues and Objectives for Guide Dog Users".

Rights of Access for Guide Dogs – The Developing Picture

David Adams, the recently appointed president, welcomed the delegates to the 2-day meeting at the Stanhope Hotel and
introduced the first keynote speaker, Mrs. Jill Allen-King, who spoke about her 40 years of campaigning for blind people and guide dog users. She lives in the UK and is the European Blind Union representative on the EGDF board.
Jill told about being recently blind with a young daughter when she had her first of six guide dogs. Access for guide dogs was so limited that she could not go to the cinema, public library or the seaside pier with her daughter and guide dog. Over the years her campaigning for access has included tactile pavements, shared spaces (cyclist should not share spaces with pedestrians) and silent cars. Now taxi drivers in the UK take guide dogs and a driver cannot refuse unless he has a medical certificate. Busses, coaches, trains, cruise ships and ferries take guide dogs now although some private coach companies still do not. After guide dogs were allowed on trains it was a difficult step to have them allowed in dining cars and sleeping coaches. In Finland there are still restrictions on guide dogs on trains.
It took a great effort to have guide dogs accepted in the cabin of airplanes and required a definition of "guide dog" being recognized throughout the world. Now guide dogs are generally accepted in hotels, public buildings, pubs, and government buildings although there are many exceptions throughout Europe.
Jill was awarded the MBE for her campaigning work but was not allowed to take her guide dog with her to Buckingham Palace to receive the award from The Queen. It was a great sign of progress when she was later awarded the OBE for her further campaigning that her guide dog was this time welcomed at the palace.
Accessibility is Good Business

The second keynote speech told how "Accessibility Is Good Business" and was presented by Gemma Leon Diaz, head of Spain's guide dog training school, assisted by Eloy Aranda Flores, guide dog trainer at the school. The speakers represent ONCE, Organización Nacional de Ciegos Españoles, the only organization of blind people in Spain. ONCE was founded in 1938 and aims for the full social integration of visually impaired people in society. ONCE provides a full range of services to the blind, complementing those offered by the government.

CEOSA, the business division of ONCE, owns or invests in several companies across a wide range of sectors to support its work for the blind. The most well-known is the national lottery which has been ONCE's main source of income for many years.

However, several years ago they decided to diversify into hotels and the story of the Spanish chain Confortel was the main focus of her presentation. There are 18 hotels in the main Spanish cities. They are 3- and 4-star hotels aimed at the general public but dedicated to universal accessibility, sustainable development and respect for the natural environment . Access for disabled people is integrated into the design of the hotels and not a grudging concession to government regulations. All doorways are wide, all lifts speak, there is unobtrusive Braille labeling throughout, including on the shampoo and lotion bottles. Guide dogs are given their own bed and bowl. Confortel has created the job of Expert in Accessibility and train all their staff. Gemma said that in 2012 Confortel was the first to obtain the Universal Accessibility Certificate for all its hotels. Their philosophy is that "it is important to offer clients, whether or not they are disabled, the best services, customer support and comfort because this is how the adaptation message becomes a reality".

Improvements for guide dog users and other disabled people can be made philanthropically or forced by legislation. But it is important to realize that the business case is also a driver for change and should be embraced, not ignored.
Campaigning Can Achieve the Impossible

Graham Kensett, Guide Dogs for the Blind Association, showed several videos and related the story of a young Muslim boy who managed to gain access to the mosque with his guide dog.

Sana Viner, a UK guide dog user, told of her personal experience with a guide dog. Her journey started in 2004 when she moved to Birmingham to study law at the university. She was blind and getting around with a cane and did not want a dog. She is Muslim, did not like dogs, her family would not approve of them, and it would make her unclean to pray.

Someone suggested that ishe nvestigate a guide dog so she applied, telling them that she didn't like dogs and they said that was OK. They had her walk with a dog in harness, which she didn't mind, but did not want to be near the dog when it was free and wanting to play. Eventually she got Amelia, a guide dog of her own that she did not want.

On the first night of her training she had to share a hotel room with Amelia to start the bonding process. Amelia was on her bed on the floor and Sana sat cross-legged on the centre of her bed, not wanting any contact with the dog and afraid to go to sleep. Her stress was shared by Amelia who became sick, making Sana even more reluctant to move or sleep. In the early morning Sana finally moved from her bed to use the bathroom. When she opened the door to come out again Amelia was standing there wagging her tail and waiting for her. Sana just melted when she saw how determined Amelia was to be loyal to her and they have been best friends ever since.

Amelia has changed her life and given her independence. Her parents have learned to love the dog and she persuades reluctant Muslim taxi drivers that it is OK to take a guide dog. She says that the Muslim religion is very flexible and makes an exception to the uncleanliness of dogs when they are assisting people. Sana is able to take her guide dog to the mosque with her when she goes for prayer, with the dog waiting for her in an adjoining room.

As part of this process the Muslim Council of Great Britain issued a fatwa clarifying the position and enabling all Muslims to work with guide dogs. Her story illustrates that patient and diligent campaigning can be successful in the most unlikely circumstances.
Making the Law and Achieving the Result

Mark Van Gelder, President of Belgian Assistance Dogs, spoke about his efforts in Belgium to improve access for all types of assistance dogs and their owners. The work is made more difficult by the fact that there are four regions in Belgium, each with different regulations. He has managed to change some laws by identifying the right politicians and lobbying them. Despite over-arching European laws being passed there is still a need to lobby and campaign nationally and regionally to make the law reality. He found that gentle persistent persuasion work best.



Round Table Discussions

The European Disability Strategy 2010-2020 was adopted on 15 November 2010. The strategy states that although persons with disabilities have the right to participate fully and equally in society and the economy and that denial of equal opportunities is a breach of human rights, people with disabilities are still disadvantaged:

• They are poorer than other citizens of the EU
• Fewer of them have jobs,
• Their opportunities to enjoy goods and services such as education, healthcare, transport, housing, and technology are more limited.

The strategy states that the reason for this is the still existing discrimination as well as physical and attitudinal barriers. These barriers affect one in six citizens of the EU, which is around 80 million people.

By signing the United Nations Convention on the Rights of Persons with Disabilities (UNCRPD), the EU and all its EU countries have committed themselves to create a barrier-free Europe. Even though the EU countries have the main responsibilities, EU action is needed to complement national efforts.

The EU Treaties provide for combating discrimination of people with disabilities and the Charter of Fundamental Rights refers to their right to benefit from measures designed to ensure their independence, social and occupational integration and participation in the life of the community.

The Strategy for the period 2010-2020 is a comprehensive framework committing the Commission to empowerment of people with disabilities to enjoy their full rights, and to removing everyday barriers in life.

The Strategy builds on the UNCRPD and takes into account the experience of the Disability Action Plan (2004-2010)

Its objectives are pursued by actions in eight priority areas:

1. Accessibility: make goods and services accessible to people with disabilities and promote the market of assistive devices.
2. Participation: ensure that people with disabilities enjoy all benefits of EU citizenship; remove barriers to equal participation in public life and leisure activities; promote the provision of quality community-based services.
3. Equality: combat discrimination based on disability and promote equal opportunities.
4. Employment: raise significantly the share of persons with disabilities working in the open labour market.
5. Education and training: promote inclusive education and lifelong learning for students and pupils with disabilities.
6. Social protection: promote decent living conditions, combat poverty and social exclusion.
7. Health: promote equal access to health services and related facilities.
8. External action: promote the rights of people with disabilities in the EU enlargement and international development programmes.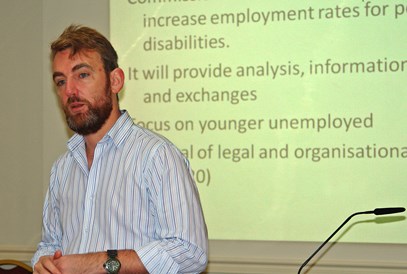 The round table was facilitated by Dr Simon Adderley of Chester University in the UK and EGDF board members chaired the discussions. The conclusions will be published on the EGDF website.