Report of 2016 Conference in Slovenia
More than 40 delegates from 16 European countries convened in Slovenia for EGDF's 8th Conference on April 14th to 16th.  The conference programme, prepared by Executive Director Judith Jones, focused on the many challenges facing the 25,000 guide dog and other assistance dog owners each day. The conference addessed the difficultites of guide dogs having rights of access and the limitations of institutions and regulations that should protect them.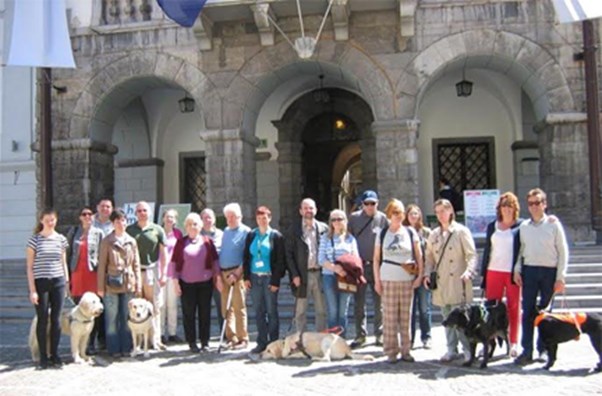 Delegates in front of City Hall after being received by the Mayor.
Dr Simon Adderley of the University of Birmingham Business School facilitated the conference and set the scene with an overview of recent research, including a study by the University of Chester, another by Guide Dogs UK, and a third by the European Parliament Research Service.  Common findings of these studies show persistent deficiencies in guide dog access rights which are either not accepted by the public at large or are not enforced by the appropriate authorities. These findings set the theme for the conference which, in various papers and workshops, explored remedies and actions that EGDF might pursue:
1.  Champion a Pan-European public education campaign aimed at improving recognition rights and values of guide dogs and other assistance dogs which would
reduce discrimination
improve access to goods, services and the built environment
enhance product design and
promote acceptance across ethnic and cultural divides. 
2.  Be a catalyst to improve the quality of equality and discrimination legislation so that it clearly specifies
the rights of people with guide dogs and assistance dogs
the obligations of the wider public and service providers towards them
specific references to qualified guide and assistance dogs.  
This may include the creation of a Europe-wide identification document for qualified parterships.
3. Demonstrate the realities of life for guide dog users by maintaining a census of guide and assistance dogs by country, tracking legislation concerning guide dogs across states and regions, and developing an interactive realtime system of access denials so that they can be quickly resolved and also recorded as evidence.
EGDF President David Adams thanked delegates for attending and participating so actively.  He acknowledged the support of the President of Slovenia as honorary patron, the mayor Ljubljana who welcomed delegates at a reception at City Hall, the staff of the school for blind children in Ljubljana, and Slo-Canis for hosting the conference.
Mr Adams' own journey from London to Ljubljana illustrated the problems guide dog users often suffer when travelling.  Due to an access issue at Stansted airport he was unable to board the flight with his guide dog.  His journey was prolonged by 24 anxious hours and he finally had to leave his guide dog behind and operate for six days without her or any other mobilitiy aid for the first time in their six year partnership.